Smoothies are a fantastic and convenient way to pack a bunch of nutritious goodness into one delicious glass.  They're ideal for busy people who want to maintain a healthy lifestyle.  Satisfying, fast and easy – adding smoothies into your regular kitchen repertoire will be a game changer for your health.  Quench your cravings! The ultimate breakfast of champions! Stabilize blood sugar levels! Get your antioxidants! Seriously I need my own smoothie infomercial. These healthy smoothie recipes were all created in my kitchen with taste and nutrition being the priority.
The thing is, I still hear from people  who "don't like" smoothies because they don't turn out. They report chunky, brown sludge that no one in the family will consume.  Usually this comes from either combining too many of the wrong ingredients, having an old worn out blender or using too little liquid. Folks, consider this your smoothie rescue intervention. Here are 10 of our most popular tried and tested fool-proof smoothie recipes! They were all first posted on our Belle Method Instagram account and got lots of great feedback!
Make 'em. You can thank us later!
(Note: these were all made with a Nutri-Bullet as you can see in pictures. About $89-$99 at Bed Bath and Beyond, Walmart etc. You can also invest in a Vitamix or Blendtec if you're serious about upping your smoothie game!
1. BASIL BEAUTY BLAST: Basil is currently growing like crazy in our garden so here's a solution: blend it! Basil herbs are full of phytonutrients and high in vitamin A ( anti-aging!). Recent research also shows that basil may help treat arthritis and inflammatory bowel diseases. Adding garden fresh cherry tomatoes and hemp heart omegas will give your skin a glow!
INGREDIENTS: 7 fresh organic strawberries, 1/2 cup peeled chopped cucumber, 4 cherry tomatoes, 1/2 cup frozen mango, 1 tbsp hemp hearts, 1 tsp chia, 4-5 medium to large basil leaves. Blend with water or coconut water and enjoy!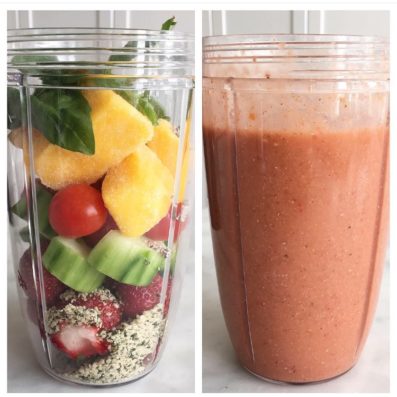 2. KALE-SAURUS SMOOTHIE: Craving some green kale goodness in your life? Celebrating St Patty's Day? Here's a tasty healthy option. Note: I like using baby kale versus the larger leaves because they're easier to digest. Another option is to use lacinato kale versus curly kale. Lacinato or "dinosaur kale" is softer and less fibrous in your smoothie.
INGREDIENTS: 1 chopped pitted peach, 5 organic strawberries, 1/2 banana, 2/3 cup plain yogurt (I used vegan coconut yogurt because of diary allergies, but plain greek yogurt could work for you too), blend with almond or hemp milk to taste.
3. SUPERFOOD SPRING-IN-A-CUP SMOOTHIE: Creamy with just the right amount of sweetness. This recipe includes raw organic bee pollen (available at most health food stores). Bee pollen is loaded with enzymes for digestion, can help with seasonal allergies, boosts your immune system and cleanses the liver. Get some now!
INGREDIENTS: 1 chopped mango ( or 3/4 cup frozen), 1 cup chopped peeled cucumber, 1 banana, 1/2 avocado, 1/2 cup strawberries or raspberries, 1 tsp chia seeds, 1 tsp organic raw bee pollen. Blend with non dairy milk and enjoy!
4. CREAMY CHLOROPHYLL MINT SMOOTHIE: The ultimate green power drink! Chlorophyll is the green pigment in plants that facilitates photosynthesis. We all know dark leafy greens are healthy – that's largely because of the chlorophyll they contain. Cooking greens destroys their chlorophyll, so you can supplement by adding a liquid version (available at most health food stores). Try this cancer fighting, blood cleansing, breath freshening, iron boosting recipe!
INGREDIENTS: 1 banana, 1/2 avocado, 3/4 cup peeled chopped cucumber, 1/4 cup fresh mint leaves, 1 orange, 1 tbsp chlorophyll. Blend with water or coconut water and enjoy!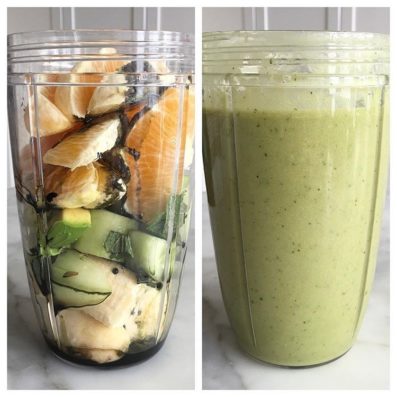 5. STRAWBERRY PROTEIN "MILKSHAKE": This protein and omegas packed treat will fuel your brain and keep you going for hours! Subtly sweet, filling and guaranteed to please even the fussiest of eaters!
INGREDIENTS: 1/2 banana, 1/2 avocado, 1 cup frozen strawberries, 1 tsp flax seeds, 1 tbsp all natural peanut or almond butter, 1 scoop vanilla vegan (try Sun Warrior, Vega or Genuine Health) protein, 1 tsp honey. Blend with non-dairy almond, hemp or coconut milk and enjoy!
6. PARSLEY DETOX SMOOTHIE: Parsley is waaaay underrated! Beat the bloat and drink this. This immune boosting garnish boasts many benefits including: natural diuretic to flush water retention, blood pressure regulation, high in folic acid, digestive aid and natural breath freshener.
INGREDIENTS: 2/3 cup frozen mango, 1/2 banana, 1/2 cup fresh parsley, 2 pitted dates, 1/2 avocado, 1 tbsp ground flax seeds, 1 tbsp hemp hearts. Blend with coconut water and enjoy!

7. HONEYDEW PEACH SMOOTHIE: This smoothie is a straight up treat. If you're having a sugar craving, drink this instead! You'll definitely be satisfied afterwards.
INGREDIENTS: 2/3 cup chopped honeydew melon, 1/2 frozen banana, 1/2 cup raspberries, 1 peach, 1 scoop vegan vanilla protein. Blend with unsweetened almond milk or even just water. Enjoy!

8. PAPAYA MAGIC SMOOTHIE: This might be the ultimate digestive aid in a glass that actually tastes really good. Papaya contains powerful enzymes to help break down your food. Your belly will thank you for this one.
INGREDIENTS: 3/4 cup chopped papaya, 1/2 cup chopped peeled cucumber, 1/2 banana, 2 tbsp chia seeds, 3/4 cup frozen strawberries. Add coconut water to taste and blend!

9. CHUNKY MONKEY MACA CHILLER: This smoothie is off-the-hook delicious. And it contains superfoods to pump you up for a marathon, or just your Monday. Either way, get ready for serious energy (and libido!) boosting power. Make sure you get gelatinized maca powder that's easier to digest.
INGREDIENTS: 1 frozen banana, 1 tbsp almond butter, 1/4 cup raw cashews, 1 tbsp raw cacao nibs, 1/2 tsp cinnamon, 2 pitted dates, 1/4 tsp pure vanilla extract, 1 tsp chia seeds, pinch himalayan sea salt, 2-3 ice cubes. Blend with unsweetened vanilla almond milk and devour!

10. BLUEBERRY BLISS SMOOTHIE: Drink this and get super powers! Arugula is one of the healthiest greens out there. In smoothies however it can have a peppery flavour that not everyone likes. This combination takes the edge off and will make everyone an arugula lover! Some arugula health benefits include lowered risk of cancer, healthy bones, and improved eyesight. It has antioxidant properties and is good for healthy skin. It also helps in strengthening the brain, improving metabolic functions, mineral absorption, and boosting the immune system. Arugula is beneficial for weight management as well.
INGREDIENTS: 1/2 banana, 1/2 avocado, 1 nectarine, 3/4 cup organic blueberries, 1 cup arugula, 1 tsp chia seeds. Blend with unsweetened non-dairy milk and fuel your body!
Want more? Follow us on insta where we post new healthy smoothie recipes every week! If you're looking for more holistic nutrition coaching, meal planning and complete custom food programs – contact us! We've launched Belle Nutrition and would love to help you optimize your health and reach your wellness goals. Here's to your health!