It has been a big year filled with many firsts – the biggest of all was the birth of my daughter Gabrielle this past April 2018. She is now 8 and a half months old!
As a Prenatal and Postnatal Pilates teacher, it was truly amazing to finally be able to practice what I have been preaching for close to a decade. Pregnancy and birth is such an important topic – especially as it relates to pelvic health. Pelvic health is my passion and something I wish more women discussed.
We have all heard the jokes about sneeze leaks after child birth and the importance of "doing your kegels" for pregnant and postpartum women.  But newsflash, there is SO much more to exercising your pelvic floor than just "doing your kegels." (Hint, some
women shouldn't be doing kegels at all
!)
Child birth is one of the most incredible feats a woman's body can accomplish. The more a woman is physically and mentally prepared, the stronger and more empowered she will feel during this life changing event.
Here are our top 5 tips for a smooth birth. We teach these in our
Bump Method Prenatal
Pilates classes. That being said, not everyone is able to have a safe vaginal birth. Circumstances are sometimes beyond our control and we are so grateful to have medical interventions when needed. C-sections save lives everyday. And some people may simply choose to elect a caesarian birth for personal reasons.
There's absolutely NO birth agenda here, simply tips that I (and many students before me) found helpful in preparing for a vaginal birth.
Open Glottis. Always try to push with an open mouth (called open glottis). This also helps you dilate more quickly when in contractions. Try exhaling and letting your lips flutter – much like a horse. It sounds crazy, but it's proven to reduce pelvic floor damage. This links to the next point.
 Sphincter Law. Read up on "Sphincter Law", a term coined by Ina May Gaskin. She has some great books also and a great TED Talk. Ina is a famous midwife with A LOT to say about birth, and her work is very empowering. I read her books during pregnancy and found her stories helped quell any anxiety.
Spontaneous pushing is best for your pelvic floor. This means that pushing is non directed – you push when you feel the urge and not before.
 Find your core and release your pelvic floor. Try to push at the end of your inhale when your pelvic floor is most open. The more open you can make your pelvic floor and the more connected you can stay to your deep core muscles – specifically your transverse abdominis – the stronger you will feel when it comes time to push. I had a pretty hard time figuring out how to push until my doula finally said "use your abs Nikki!". Baby G arrived 3 pushes later. Stay connected to your deep core muscles during pregnancy by performing "hug the baby" core breaths. We have tons of video examples on instagram under #thebumpmethod and in our online prenatal video programs.
Push side lying. If you have the epidural or are with an OB who won't deliver you on hands and knees, try lying on your side with your top leg on a squat bar during pushing instead of on your back. This way your pelvic floor is 30% more open and studies show it is actually easier to get baby out with less tearing.
I sincerely hope these tips are helpful to any pregnant women who may be reading this. Here's to you and your magical bodies! My favourite quote from midwife Ina May Gaskin is: "Your body is not a lemon." You got this mamas. Your strength will surprise you.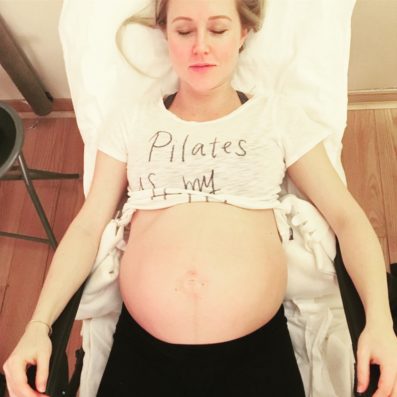 With so much love.xo